| | | |
| --- | --- | --- |
| | Snake Aversion Training for Dogs | |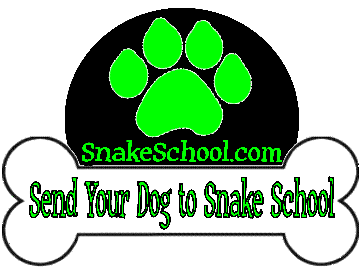 Choose which day you'd like to attend and call to schedule your time slot.
This class will be held in Griffin, GA
Griffin is approximately 45 Minutes south of Atlanta.

Here at Southeastern Reptile Rescue, we house well over 100 snakes that are routinely taken out of cages during cleaning or when being placed in a transport box to be taken to an educational exhibit. For this reason, there has always been a chance of one of our dogs becoming curious and deciding to get a good sniff of a rattlesnake. So, years ago we started training our dogs to avoid snakes altogether. As calls of snake bitten dogs have steadily come in over the years with exasperated owners facing a hefty vet bill, we decided to offer Snake Aversion Training or "Snake School" to hopefully help avoid these disturbing calls.

Our Snake Aversion Training Sessions are located at specific venues around the state of Georgia throughout the year. If your location is not listed, contact us to discuss adding a class to a city near you.
Snake School

~ Available for all breeds of dogs.

~ We use live native venomous snakes that have the unique smells that may be encountered in your area.

~ Snakes, dogs and humans are kept perfectly safe as no one is able to actually make contact with any of the venomous reptiles.

~ Dogs are trained using an e-collar which produces a negative reinforcement by way of a mild, harmless electric stimulation. We are very conscious to the fact that use of e-collars are not favored by everyone. If you feel this way, we understand. Unfortunately, we have found no other safe and humane way that has proven to be effective in detering dogs from the danger a snake can present. Once you have seen a dog or person suffer the effects of a snake bite, the minor irritation an e-collar presents quickly fades as a reason to not have your dog trained.

Cost
Snake Aversion Training is $60 per dog.


Here's How to Register Your Dog.

1. Call Southeastern Reptile Rescue at 404-557-2470. This will give you the chance to ask any questions you may have about the training.

2. You will then be able to choose one of the listed days that best fits your schedule.

3. Then, just choose one 15 minute time slot per dog. (Yes, this training only takes about 15 minutes!)


If you'd like to sign up, we strongly suggest that you do so right away. Just because the date you want is weeks or months away remember, there are a limited number of time slots available for each location. Once they're full, they're full!

To Participate, Pre-Registration is Required!

Other dates and locations are pending.
Check back soon or let us know where you'd like to see us.
Call 404-557-2470 to register your dog
or get more information.
Watch our SAT (Snake Aversion Training) video below.
Curiosity Killed the Cat...and the Dog!
by Jason Clark
It's often hard for people who are not pet owners to grasp the concept of dogs truly being a member of someone's family. My wife was raised with the family dog living alongside her in the house. I was not. Growing up, I was one of the lucky kids that were allowed a dog, though, it had to stay outside. It wasn't until we were married that I first kept a dog inside. This experience truly allowed me to understand the concept of a dog as a family member. Having been married now for 11 years with two daughters (Audrey 8 and Lily 7), I often refered to Holly (our boxer) as the oldest of three children. Keeping Holly protected from the normal hazards of everyday life such as traffic and even other animals that may be dangerous is just a part of pet ownership. In August of 2015, when she was 11 years old, were devestated as we had to lay Holly to rest. Now, our mini schnauzers rule the roost around here.

As the owner of our family run organization, Southeastern Reptile Rescue, I am in close proximity to dangerous animals on a daily basis. We house over 100 snakes, a couple dozen alligators, crocodiles and caimans. My family's safety is of the utmost importance. Rule number one is that venomous snakes live in their own secure facility and not in our home. This however, does not protect my family from snakes they may encounter in the wild or on our small family farm, a fact that I'm constantly reminded of as I receive emergency calls regarding snake bite victims looking for answers. Teaching my children about nature, including snakes, comes very natural for me. And, having a four legged family member, this should be no different for them. Just as my children were born with no natural fear of snakes, neither was my dog. Dogs being naturally curious, often receive snake bites on their head and neck areas as they begin to closely sniff this new unusual creature hiding near the bushes. Teaching my own dog became very important to me after I went to my first call about a snake bitten dog several years ago. The owner was in her backyard with her two French bulldogs. The female bulldog let out a yelp near a brush pile as the owner looked to see a three foot long timber rattlesnake lying nearby. Responding very quickly, the dog was hurried into the car by the owner for the short trip to the local animal hospital. Before the car left the driveway, the dog was deceased. Over the years, I have seen many stories just like this one unfold for devastated owners. Most of these bites involve Georgia's most common venomous snake, the copperhead. What struck me as strange is the fact that many of the dogs that survived a venomous snake bite were still not afraid and were just as curious about the next snake they encountered as they were with the one that bit them. This is easily explained by the bite itself. The physical penetration of fangs into flesh is usually a very minor event with hardly any pain. The excruciating pain is caused from the venom injected during the bite. The problem with snake bitten dogs is that the venom does not cause immediate pain. This may take several minutes - after the dog has left the area with the snake. Surviving dogs then fail to associate this near death pain with the act of investigating and sniffing a snake. Thus, they repeat the whole process months later with another snake. This next bite, if you can afford the vet bills again, may not turn out as well as the first. Teaching a dog about snakes in the yard is just as important as teaching a child about cars in a parking lot. Without proper education, neither the dog nor the child knows what danger these apparent harmless objects can quickly and permanently cause.
Jason Clark is the owner of Southeastern Reptile Rescue, a Georgia based organization that, among many other things, trains dogs to avoid venomous snakes. Southeastern Reptile Rescue hosts their Snake School in locations around the state. For a location near you or to sign your dog up for the Snake Aversion Training, visit SnakeSchool.com or call 404-557-2470.
Snake Aversion Training with Southeastern Reptile Rescue
by Randall Craig Schultz from aBirdHuntersThoughts.com


I've heard so much about snake aversion training that I knew it was necessary, but I was leery about doing it. Problems with uncertified instructors using poor techniques caused me to hesitate. I saw this man's ad and looked up his website. Then, I called him and pretty much grilled him for 30 minutes. In a nutshell, I am impressed with the system he uses and the theory behind the system. He knows snakes, venomous and non-venomous! And, he knows dogs and how they learn. He puts the two together and you have a great method for teaching your dog to avoid snakes- all snakes! The timing of the stimulation is very important, critical even. Jason Clark, of Southeastern Reptile Rescue, is an expert in snakes. He will stimulate the dog, not when it first gets scent, but when it follows that scent right up to the snake and gets as close as it can. The dog, as I understand it, associates the actual snake with the correction not merely the scent. It took 10 minutes per dog and my Brits were moving all around the area, a snake scent covered area, until they SAW the snake. At that point, they backed away or went around the snake by a wide margin! My 2 year-olds only took one correction, at the proper time, and they were believers. It was not a huge shock, either. It was a 30 on a scale of 100 with a Dogtra system. (Maybe a 3 on a Tritronics?) The final exam was a Rat Snake on the ground with no crate around it. All my dogs saw and avoided by a wide margin! Very nice. He used a Copperhead, a Moccasin and a Timber Rattler in cages and a Rat Snake, uncaged, for the Final Exam.
I think that with this training, the snake vaccine and a snake bite kit in the truck, we have taken all reasonable steps to avoid and/or mitigate a snake bite problem. I feel somewhat better about hunting Montana next week with the Prairie Rattlers.
Jason charged me $50 per dog. Follow-up sessions are $35 per dog and are recommended by the company annually. Click the link and check them out. I am glad I took the time.
http://www.snakesareus.com/